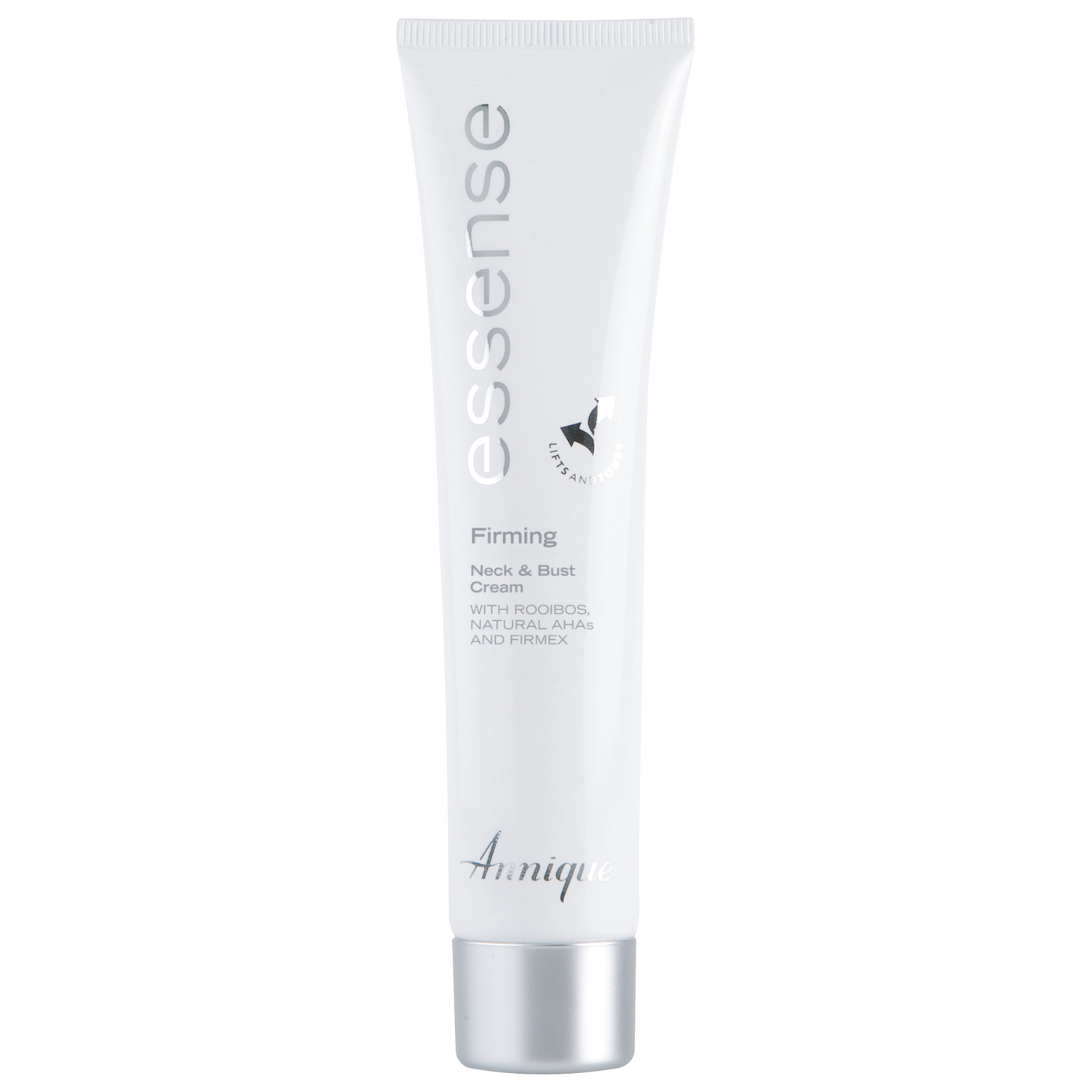 Annique Essence Firming Neck and Bust Cream 75ml
SKU AA/00393/18
Product Details
---
AwwAnnique Essence Firming Neck and Bust Cream 75ml
UPLIFTING NEWS FOR YOUR NECK AND BUST!
The new and improved formula:
Helps tighten, lift and firm your skin on the neck and bust area
Helps even skintone
Helps promote a smoother looking complexion, especially if skin is sun damaged and/or neglected
The new formula contains Rooibos and natural AHA's (just like the previous formula) and a BRAND NEW STATE-OF-THE-ART FIRMING ACTIVE ingredient, called FIRMEX.
Natural alpha hydroxy acids (AHA's) from bilberry, sugar crane, sugar maple, orange and lemon
Promotes smoother, younger looking skin by increasing the rate of cell renewal
Safely exfoliates dead skin cells resulting in skin that appears fresher, smoother and younger
Promotes increase in skin's moisture
Boosts the skin's elasticity
FIRMEX, a new highly effective natural active ingredient, is a synergistic combination of two botanical compounds (from Maral Root and Wild Jujube) that help to :
Strengthen the internal structure of the skin
Improve the integrity of the skin by strengthening the dermal-epidermal junction
Recover and maintain firmness and elasticity
Application
Use in the morning and evening, on clean dry skin, before applying
Apply on neck and bust area
Must be used in conjunction with a sunscreen during the day.
Patch test before use
Sensitive skin types may not be able to use a product that contains natural AHA's
Lifting Essence contains:
• Fenugreek seeds to improve appearance and rejuvenate skin.
• Humulus lupulus (hops extract), known as an effective revitalising ingredient.
• Horsetail, used in skin care products to prevent dehydration and wrinkles.
• Boswelia corterii birdus, added for the stimulating and antiseptic action distinctive of this cream.
TIP: NEVER apply your fine fragrance to your neck area during the day. Sun exposure to this area will cause pigmentation problems and ageing.
Can I use Firming if I am pregnant or breast feeding?
Pregnant or breast feeding women should consult their health care practitioner before using Lifting Essence.

What are the benefits of Alpha Hydroxy Acids (AHA)?
Increased exfoliation by loosening the "glue" that holds skin cells together. In doing so dead
skin cells are removed, oil is controlled, the look of fine lines is reduced, skin colouring is improved and the tone is evened out. Skin becomes all glowy and smooth.

If I stop using the product will the results disappear?
For continuous results, use Firming as part of your daily regimen.

What AHA's can be found in Firming?
Glycolic acid – removes dead skin cells and improves skin colouring and tone is evened out.
Lactic Acid – retexturises the skin surface and stimulates cell renewal to moisturise, firm and plump up the skin.
Citric Acid – stimulates collagen growth, brightens the skin beautifully and helps to reduce age spots and pigmentation.
Active Fruit Complex – increases the rate of cell renewal.
Save this product for later