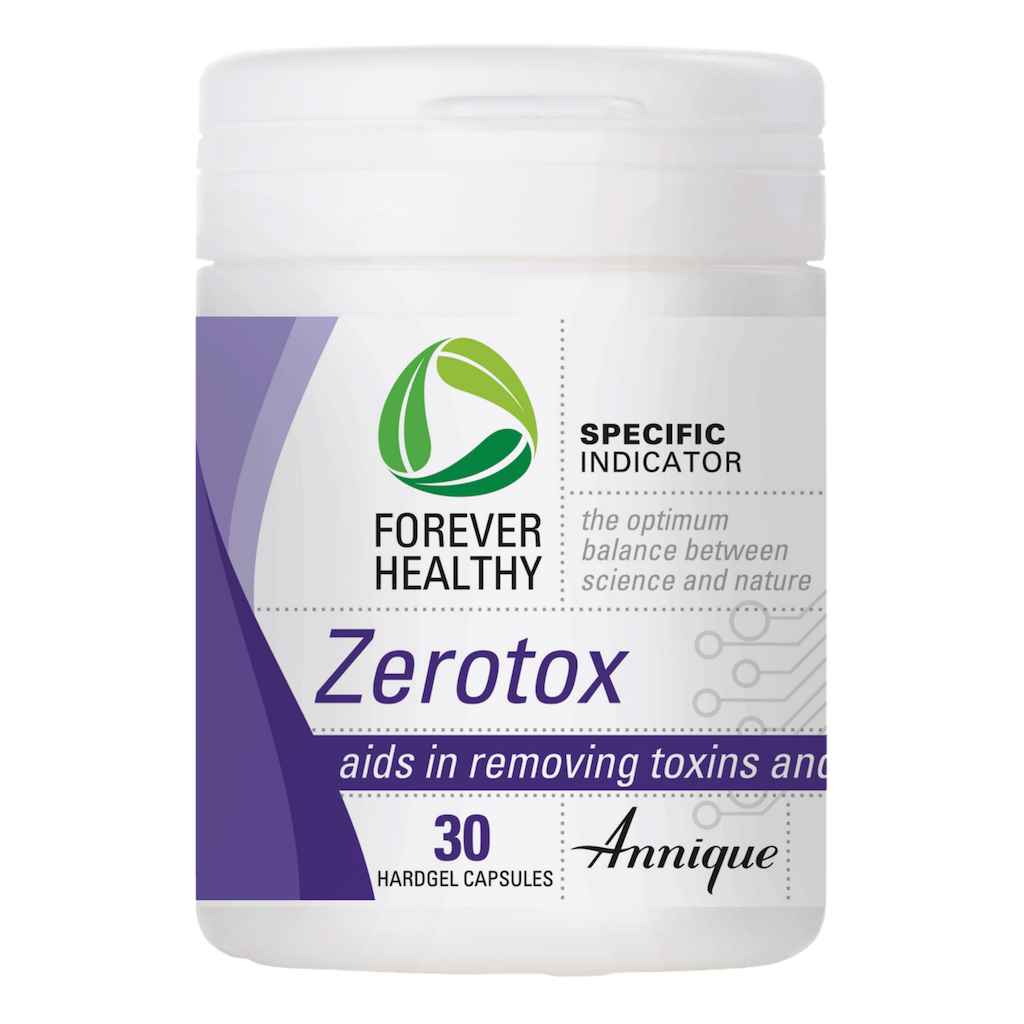 Annique Forever Healthy Zerotox - [Previous OptiClear] 30 Capsules
SKU AE/08244/18
Product Details
Annique Zerotox, Previously OptiClear - Aids in removing heavy toxins and heavy metals
Zero Tolerance
Zerotox contains AbsorbatoxTM that adsorbs heavy metals, toxins and nitrates. Heavy metal toxicity can have detrimental effects on your health. Zerotox is FDA certified, helps to restore organ equilibrium and is safe to use (it doesn't get absorbed into the blood stream, but stays in the gastro-intestinal tract) even in severe cases. Absorbatox™ adsorbs toxins, changing its molecular structure and rendering it harmless, after which the body removes it naturally.
Zerotox acts as a sponge in the stomach and adsorbs the toxins produced in much the same way as a sponge soaks up water. In addition, it removes any foreign substances in the body. Assume, for instance, that a beer drinker has consumed 5 beers in 45 minutes. By the time possibly 2 beers would have been absorbed into the bloodstream, with the remaining 3 beers
waiting in the stomach for absorbsion into the bloodstream. Ingesting Zerotox capsules will sponge up the three beers in the stomach, effectively keeping the alcohol in the stomach until it has passed through the digestive system and out of the body.
Why use Zerotox?
• If you have problems losing weight – a good course of 2 months can result in effortless
weightloss for the first time!
• Turn back the effects of free radicals and, therefore, ageing. Zerotox restores organ equilibrium which enables the body to do its own repairing work.
• Want to see allergies disappear? A toxic liver or body is the main cause of allergic responses in the body.
• Medical research has shown great relief and benefit for:
porphyria
migraine
chemo-patients
irritable bowl syndrome (IBS)
spastic colon
gastro-intestinal problems [heartburn and ulcers]
• Cigarette craving declined in some users.
• Sugar craving declined in most users.
• PMS symptoms declined in most users.
• Energy levels improved in all users.
12 Ailments Zerotox can help sort
• Toxic overload.
• Heavy metal toxicity.
• Cancer (especially chemo patients – take 2 hours before or after treatments).
• Migraine and headaches.
• Depression.
• Arthritis.
• Allergies.
• Weightloss.
• Alcohol overindulgence (take 4).
• Heart burn.
• IBS.
• Diarrhoea (take 4).


BRAIN
clear-out heavy metals and toxins. Prevent premature ageing of neurons and improve brain function. "A clear body ensures a clear mind"

DIGESTION
improves nutrient absorption and effectiveness of chronic medication. Avoid medication side-effects.

METABOLISM
a clear liver can control appetite, energy and release fatty deposits.

GASTRO-INTESTINAL TRACT
brings relief for indigestion, irritable bowel syndrome and spastic colon.

OVER-ALL
reduces unexplained aches and pains. Frees your body to enable it to restore cellular memory through attaining organ equilibrium.

SAFE
The Absorbatox in Zerotox is not absorbed by the body, it removes toxins while moving
through the gastro-intestinal tract
DOSAGE:
1 - 2 capsules per day, or as recommended by your health care practitioner
NAPPI CODE : 718390
Use our NAPPI Codes to claim back!
A NAPPI (National Pharmaceutical Product Index) code is a unique coding system for medicines, surgical or consumable products and medical procedures, which allows for a customer to claim a refund from their medical aid. It is, however, not a guarantee that the medical aid will refund the product, as there are different terms and conditions for different medical aids.
How does the refund work if it is granted?
Your medical aid might reimburse your Forever Healthy products. The reimbursement will be deducted from your medical savings plan. You need to contact your medical aid directly and submit the NAPPI codes, together with your invoice.
How do you claim?
Purchase your Forever Healthy product as per normal. Keep your invoice and write the NAPPI code on it and submit the invoice to your medical aid within three months of purchase. Complete any other documents required from your medical aid for the reimbursement.
Save this product for later