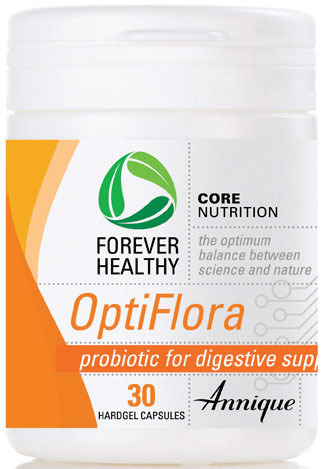 Annique Forever Healthy OptiFlora - probiotic 30 Vegicaps
SKU AE/08235/15
Product Details
Annique Forever Healthy OptiFlora - Probiotic for digestive support
Most people have less than optimal digestive systems, leading to poor absorption of nutrients. The digestive system contains flora and enzymes that break down and absorb nutrients from food. Taking probiotics will ensure that the maximum nutrition is extracted from food and supplements and allows the digestive system to heal itself.
Probiotic means 'for life' in Greek. These friendly micro organisms, when taken in adequate amounts, form the core of nutritional supplements, as their use positively influences the whole body and your overall health.
OptiFlora contains probiotic species, Bifidobacterium and Lactobacillus, Rooibos extract and fructo-oligosaccharides, for the good bacteria in the formula to feed off, promoting rapid multiplication of healthy flora and enzymes.
5 More reasons to take OptiFlora daily
• Improves bowel function and digestion.
• Promotes the absorption of nutrients.
• Boosts your immune system by helping to control and destroy potentially disease causing organisms.
• Our modern eating habits lead to a deficiency in good bacteria in the gut.
• Essential for overall health and wellbeing.
14 Ailments improved by taking OptiFlora
Impact of food poisoning.
Food allergies.
Lactose intolerance – it helps to break down lactose from milk.
Infections like sore throat, candida and bladder infections.
Prolonged times of stress.
After surgery or a course of antibiotics.
Constipation or any bowel problem like:
IBS
Bloating
Belching
Indigestion
Diarrhoea
Cramps
Thrush
PS: It may be necessary to supplement up to 3 times the normal dose of 1 capsule per day when taken after a course of antibiotics or to fight off an infection.
DOSAGE:
1 capsule per day, or as recommended by your health care practitioner.
NAPPI Code : 718389
Use our NAPPI Codes to claim back!
A NAPPI (National Pharmaceutical Product Index) code is a unique coding system for medicines, surgical or consumable products and medical procedures, which allows for a customer to claim a refund from their medical aid. It is, however, not a guarantee that the medical aid will refund the product, as there are different terms and conditions for different medical aids.
How does the refund work if it is granted?
Your medical aid might reimburse your Forever Healthy products. The reimbursement will be deducted from your medical savings plan. You need to contact your medical aid directly and submit the NAPPI codes, together with your invoice.
How do you claim?
Purchase your Forever Healthy product as per normal. Keep your invoice and write the NAPPI code on it and submit the invoice to your medical aid within three months of purchase. Complete any other documents required from your medical aid for the reimbursement.
---
#Annique #Probiotic #OptiFlora #ForeverHealthy #SouthAfrica #Rooibos #BoostImmunity #Bowel #IBS #Bloating #Thrush #Diarrhoea
Save this product for later